Please click on the link
Personal Development at Carcroft School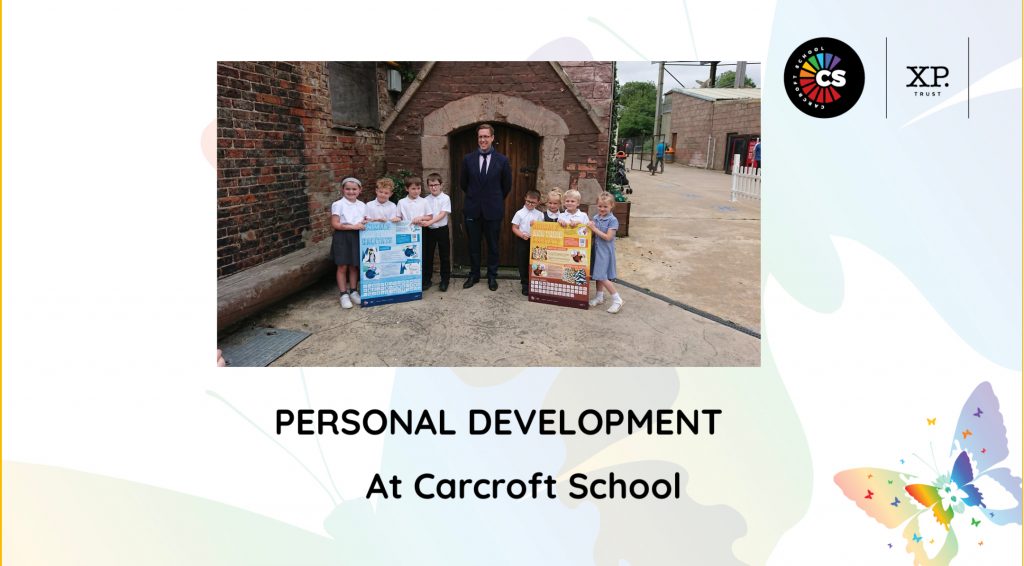 Our school aims to:
Provide high-quality pastoral support
Provide a wide range of opportunities to nurture, develop and stretch pupils' talents and interests. Pupils appreciate these and make good use of them
Prepare pupils for life in modern Britain effectively, developing their understanding of the fundamental British values of democracy, the rule of law, individual liberty, tolerance and respect
Promote equality of opportunity and diversity effectively
Provide pupils with meaningful opportunities to understand how to be responsible, respectful, active citizens who contribute positively to society
Enhance pupils' SMSC development
Carcroft School teaches personal development in a wide range of ways throughout the children's school lives. For example:
School-wide policy and practice
An inclusive environment
Adults act as role models
Behaviour Policy
Enrichment opportunities
A good range of after-school and lunchtime clubs e.g., football, cooking, choir, XP outdoors, basketball, library club and TT Rockstar's club.
Guitar lessons
Competitive sporting events (Football, basketball, dodgeball, Cricket)
Sports day
XP Outdoors
Basic First Aid
Y6 residential to Kingswood
Crew Building Sessions (outdoor hikes, climbing, orienteering, team building)
World Book Day
Safer Internet Day
Whole school Art projects
Harvest Festival
Curriculum visits and fieldwork
Comic Relief and Children in Need
Community Meetings
Online safety
British values
Diversity
School values
Celebration of pupil achievements
Opportunities to perform
Music performance assemblies
EYFS and KS1 Nativity performance
KS2 Carol Concert
Harvest performance
Y6 End of year performance
Present to wider audiences to celebrate Expeditionary Learning – including Celebrations of Learning and XP Climate Conference
Leadership roles for pupils
Carcroft Change Makers – Pupil School Council
Stewardship
Visitors to the school
Local experts – PCSO, firefighters, farming
XP Outdoors
First Aid
Specialist music teacher – guitars
Curriculum visitors / experts
School nurse
A comprehensive PSHE Curriculum
The school has a planned PSHE curriculum, built around recurring themes, designed to:
Give pupils the knowledge and develop the self-esteem, confidence and self-awareness to make informed choices and decisions;
Encourage and support the development of social skills and social awareness;
Enable pupils to make sense of their own personal and social experiences;
Promote responsible attitudes towards the maintenance of good physical and mental health, supported by a safe and healthy lifestyle;
Enable effective interpersonal relationships and develop a caring attitude towards others;
Encourage a caring attitude towards and responsibility for the environment;
Help our pupils understand and manage their feelings, build resilience and be independent, curious problem solvers;
Understand how society works and the laws, rights and responsibilities involved.